3rd Quarter 2020 Newsletter
Testimony of Triumph
Overcoming a Pandemic in Haiti
Hello to everyone in the Schools for Haiti family. We hope you and all of your family members are safe and healthy. We would like to take a few minutes and give you an update on the work our team has done in Haiti the last three months.
We are still dealing with food scarcity in our Haitian communities and in the lives of our students. Most recently, we have faced an extreme devaluation of the US Dollar. At the end of August the conversion rate was 120 Haitian Gourdes per US Dollar. Today the rate has dropped down to 60 Haitian Gourdes per US Dollar. This has caused our operational costs to double and many Haitian families are facing substantial financial hardship due to an increased cost of goods.
Schools for Haiti continues to operate by the grace of God and we are thankful that by his grace Haiti has not faced a health crisis with COVID-19. Haiti currently has 8,854 documented COVID-19 cases and 229 recorded deaths. We are grateful that we have not had any reported cases with our faculty, staff and students.
Your generosity has gone such a long way in this difficult time. Your faithful giving has allowed us to provide over 14,000 care packages of food and soap to our students and their families. During the four months of school closures, we were able to provide over 1.2 million meals. Thank you for partnering with us to complete this monumental accomplishment.

We are proud to announce that our schools opened back in August. We decided to allow three months for our students to close out the 2019-2020 school year and have an opportunity to advance to the next grade. We are administering final exams this week. The 2020-2021 school year will begin November 9th.
It's amazing to realize that we will begin our 15th school year. God has taken Schools for Haiti such a long way since we began with one kindergarten class of 12 students in 2006. But we are not done yet! We need your help to keep this going. Please consider what role God has for you and what investment you can make to help us continue providing Christ-centered education to our students and expand to other children in Haiti who may not have access to education.
Student Testimony
Lisette Petit-Homme
9th Grade – Grace School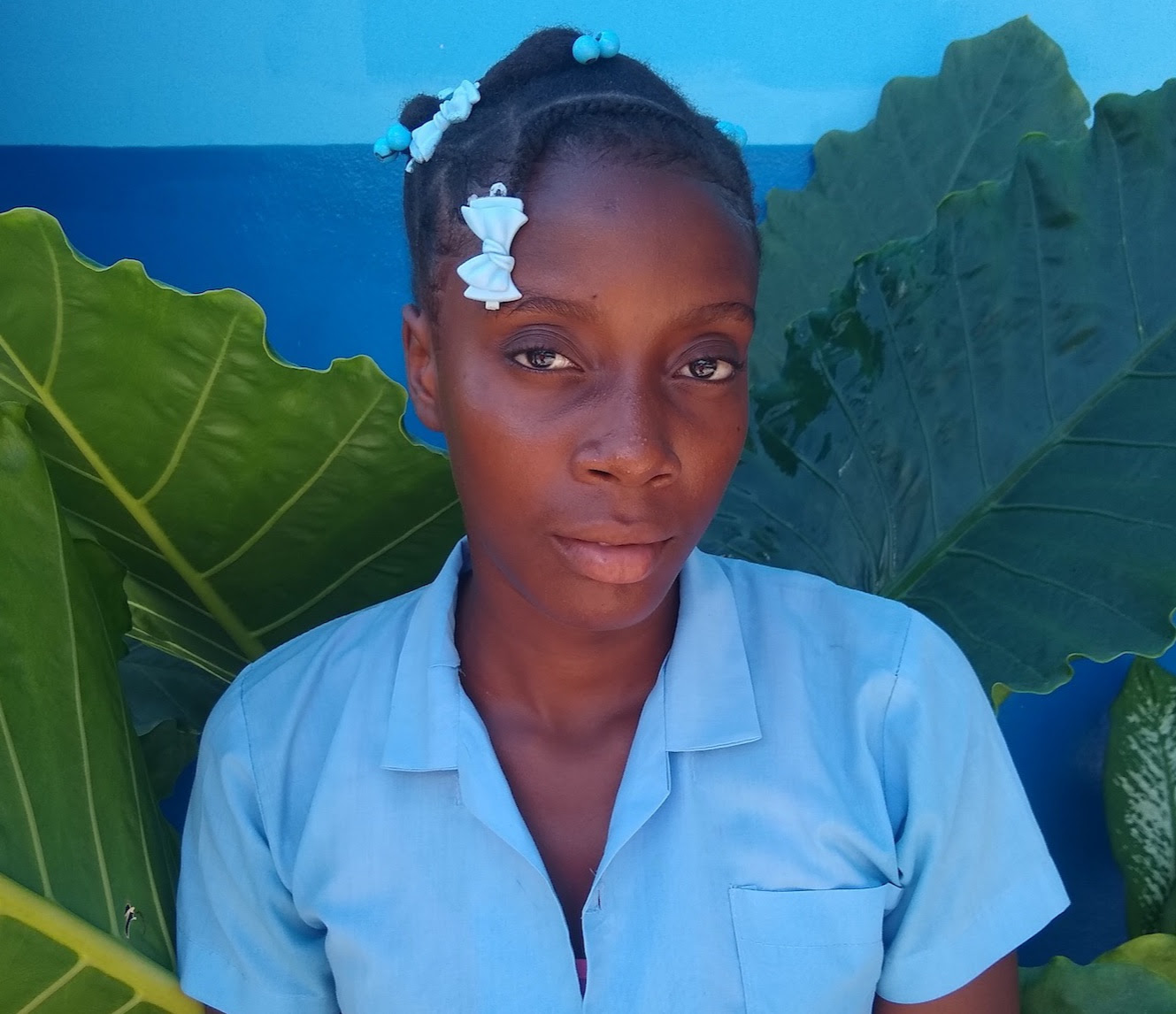 My name is Lisette, and I am 16 years old. I am in 9th grade at Grace School. I live with my mother, father, two brothers, and three sisters. The seven of us live in a 4 room house.
​I am so happy to talk about my school and how much the school has helped me. I have attended Grace School since I was in the 6th grade. I love everything about my school. I love the way the teachers are helping us learn. They also teach us English and the Word of God. Things are exceedingly difficult in my country and especially when it comes to education. I am so grateful that I am in Grace School.
​I would like to thank all my supporters for helping me make my dream come true. When I finish with school, I would like to become a nurse because I see that healthcare is exceedingly rare in my country. Thank you, Schools for Haiti, for all that you are doing in my community, and thank you also for your assistance with food during the 4 months of quarantine. I know that the United States is very affected by this pandemic but through it all, you lovingly stretch out your hand and help provide food for us.​
Thank you for your great generosity.
Update from Managing Director, Milca Pierre
As we close the 2019-2020 school year, I'm reflecting upon what a crazy ride it has been since March. How surreal is it to experience something that impacted literally everyone else on the planet at the same time? In my last update, I talked about God having plans for me that are greater than what I can imagine. These past few months I've often wondered what God had in mind with COVID-19. It has been tough to be separated from family, cautious of my health and unable to do the many little things or going to the many different places that make me feel good.
But when I visited our schools last week and saw the beautiful faces of our students, smiling and having a good time, I found it hard to believe that just seven months ago, I was scared out of my mind at what this disease would do in Haiti. The country lacks proper infrastructure for sanitation and clean water and has a dysfunctional health care system. When news broke that the disease had made it to the island, so did my confidence. But I chose to control my feelings and take it one day at a time. I thanked God coming in to work and thanked Him leaving work every day. By His grace and mercy, seven months later, our organization can report that no one – not our office staff, our teachers, principals, students or support staff – were impacted by the disease.
This is nothing short of a miracle. Though I was scared, I would often say that only God can save Haiti and just look at God! We made it. I don't know what COVID-19 has made you face or what additional obstacles this disease has placed on your path, but what I do know is that if you are reading this, then you made it too. I don't know if my prayers were enough but I do know that my faith was. That mustard seed of faith that I had, though shrouded in fear, was still enough. If God can do what He's done for Haiti, then He can most certainly do that and more for you because you are enough.
Peace and Blessings,
Milca Pierre
---
Please help us to continue educating and feeding our students. You've answered the call in the darkest of times and our students need your help now more than ever.
Please click the 'Give Now' button which will take you to our giving page. If you prefer to give by check you can mail in your donation to:
Schools for Haiti
C/O Gil Bailie
PO Box 273848
Tampa, FL 33688
Please know that you are all in our prayers. We pray that you will continue to see God at work in a mighty way during this time. God bless you and your families. Stay safe.
Blessings to all,
Schools for Haiti Team
Blessings to all,
Schools for Haiti Team